Sermon by Shawn Newton.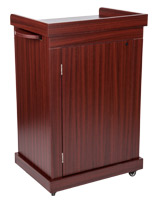 A few years ago, our own Ken Wulff was kind enough to craft a set of wheels for the pulpit at 175 St. Clair. While hugely helpful at those times when the pulpit needed to be repositioned to accommodate another event in the sanctuary, there was something that just felt fitting about having a pulpit with tiny tires. First Unitarian is, of course, a congregation on the move! But, even more, having a pulpit on wheels feels apropos to our "living tradition," which allows for our theology to change, or move, over time.
Because a not-insignificant part of my working week is dedicated to what happens in the pulpit, I am taking the opportunity in this Sunday's service to reflect on the craft of preaching itself, because I believe it is very much a shared endeavour. So, I'll be preaching about preaching—giving a sermon about sermons and the place they hold in our common life.
I'll be joined by Catherine Lake, our worship leader, and Michel Ross, who will play piano; Dallas and the choir will bring us a catchy tune called "Draw the Circle Wide."
In faith and love,
Shawn
Download the texts/lyrics used in the service.